| | | |
| --- | --- | --- |
| | | Interbid Live Auction Webcasts Best of Both Worlds |
Interbid Live
Interbid's flagship product is the live auction webcast platform, Interbid Live. Interbid Live is a program that enables you to webcast your existing live auctions, so people can listen to the auction on their computers, tablets and smart phones and bid live (in real time), along with those present at the auction. Interbid Live really does combine the best of a live auction, with a world class online auction system.
High Speed Auctioning
Interbid Live has several speed advantages that enable it to keep up with live auctioneers. The webcast program at the auction venue is connected to our servers via a patented high speed Internet communication system, that ensures sub second bidding delays. Another unique feature of Interbid auctions is the bid ladder, which enables people to instantly place bid limits and have the system bid rapidly for them, up to these limits. All bids are encrypted to ensure safety and security.
Bidders Interface
Internet bidders can place bids using the bidder interface shown below, which shows a bidder who has placed a bid limit of $13,000. However, if there is no further bidding, they will get this lot for $12,000. A scrolling catalogue is displayed along with a picture of each lot, which you can click on, to display larger pictures and details of the lot.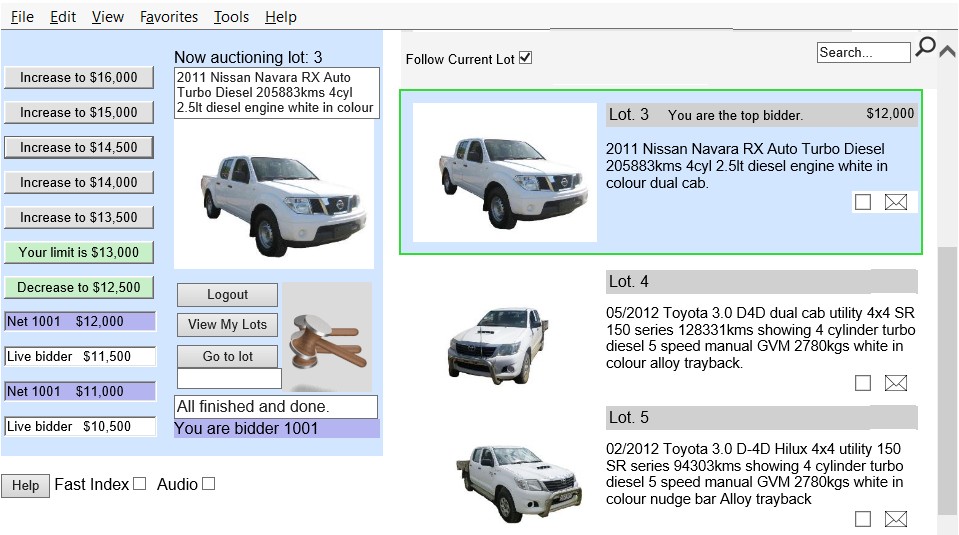 Bid Over Several Days
Interbid webcasts run over several days before the live event. In this time people can bid on all the lots. Not just absentee bids but genuine bids, with bids replacing bids as people get out bid. Then these bids are seamlessly incorporated into the live auction when the lot is offered. Giving people lots of time to bid, leads to better auction results and can actually save time at the auction, because most lots have useful starting bids.
Original Australian Webcast Product
Interbid Live was developed right here in Australia, Interbid is 100% Australian owned. Interbid has performed 5,000 webcasts across Australia since our first live auction webcast in 2003. In that time the product has been constantly improved, leading to the current version that allows people to bid without installation, on computers, tablets and mobile phones.
Photocat Auction Setup
Interbid provides Photocat a program that make loading the photos for a large auction easy. Once everything is lotted and laid out for inspection, it is easy to run along and photograph it all. When the catalogue is ready, use PhotoCat to flick through the photos and match them to the lots. It uses your existing text catalogue and matches the photos with the text. Usually a single click is all that is needed to match a photo with its lot. Then watch as the program loads the pictures and descriptions to the Internet.
Live sound streaming and active slide show
Everyone on the Internet can hear the auctioneer via Interbid's sound streaming, with sub second delay. There is also an automatic active slide show for the auction venue, that shows pictures of the current lot and the bidding as it progresses.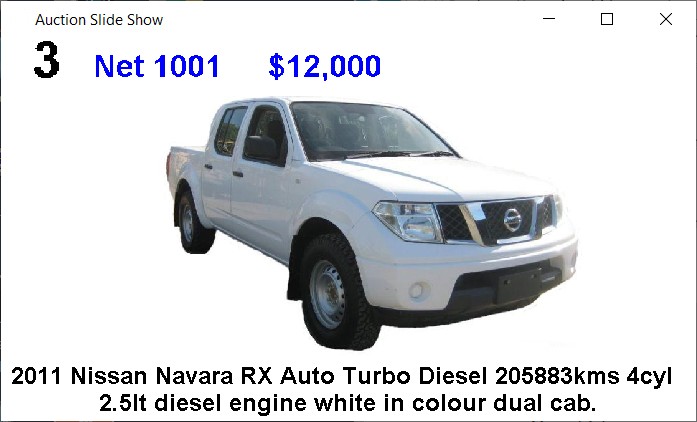 Your Registed Bidders
You can check and approve all bidder registrations or have the system automatically approve all bidders and then disallow anyone you don't want bidding. Either way, you control your own separate list, of all the people allowed to bid at your auctions.
Performing a Webcast
Most auctions take place at auction houses, where it is easy to setup a computer and a large TV to run a regular webcast. A webcast requires a webcaster to enter the live bids and after the auctioneer has accepted them the Internet bids. Though rapid, webcasting is straightforward and can be learned in a session or two. All of Interbid's customers that have regular auctions perform the webcasts themselves.
Mobility
Subject to the availability of Mobile Broadband, Interbid Live can be used to perform a webcast of an auction on location. Where possible Interbid recommends taking advantage of the active slide show to seat all the live bidders at the auction venue. However, if the auctioneer wishes to move around the site, the webcast software can be run on a touch screen tablet computer, light enough for the webcaster to follow the auctioneer around.
Hybrid Auction
A recent trend has seen major auction houses using Interbid Live to conduct an exciting "Live" auction, but without bidders present. You still live stream the auctioneer's voice and use the high speed Interbid software, to take the bids and sell the lots in turn. Most people listening to the auction think there is a live crowd, with a good auctioneer it certainly feels like it. However, with no crowd you don't need a venue, you don't need people to hand over the goods and you don't need people to take money on the day.
Conclusions
Imagine having an extra row or two of bidders at all your auctions, the success of online auctioning has proven that people want to bid from their homes and offices. Live auction webcasting offers the best of both worlds, every lot gets maximum exposure, in both a live and an online auction. Webcasting is very attractive to sellers; it is simply the future of live auctions.