| | | |
| --- | --- | --- |
| | | INTERBID PHOTOCAT Thumbnail catalogue creator |
250 lots per hour
PhotoCat processes photos of the lots in an auction into a thumbnail catalogue for the web and a slide show of the lots for auction day. When everything is laid out for inspection, it is easy to run along and photograph it all. It only takes an hour to photograph and process a 250 lot auction. With PhotoCat it is now possible to make thumbnail catalogues and slide shows for everyday auctions.
Simple processing

When the catalogue is ready, use PhotoCat to flick through the photos and match them to the lots. It uses your existing text catalogue and matches the photos with the text. Usually a single click is all that is needed to match a photo with its lot. Then watch as the program automatically generates thumbnails, slides and web pages and links them all together.
Thumbnail Web Catalogue

PhotoCat generates a thumbnail web catalogue like the one below, but tailored to suit your website. Once on the Internet, clicking on a thumbnail brings up a full picture of the lot. A thumbnail catalogue on the web is simply a very cheap and effective way of advertising what you have to sell.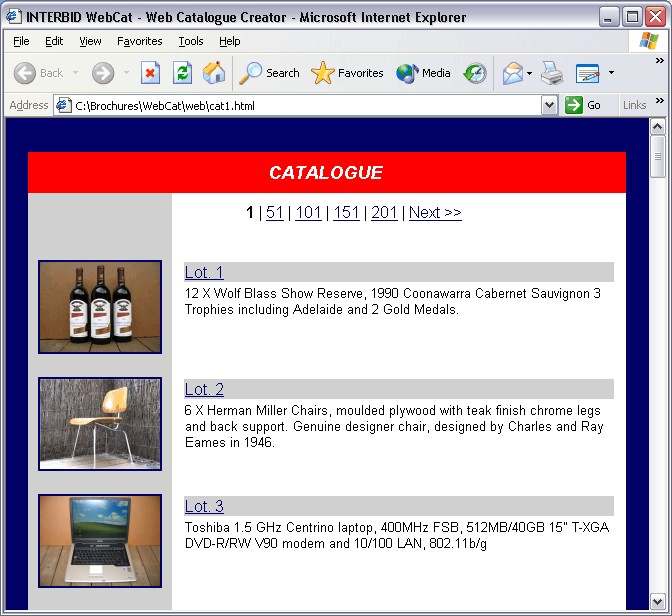 Slide Show of the lots

Show every lot as its being auctioned on a big screen or televisions. PhotoCat automatically generates the slides with a correctly sized photo and a large lot number. Seeing the current lot and lot number avoids confusion and informs bidders of exactly what is on offer. Lets everyone clearly see smaller items. Can save money by not having to have someone holding up the lots.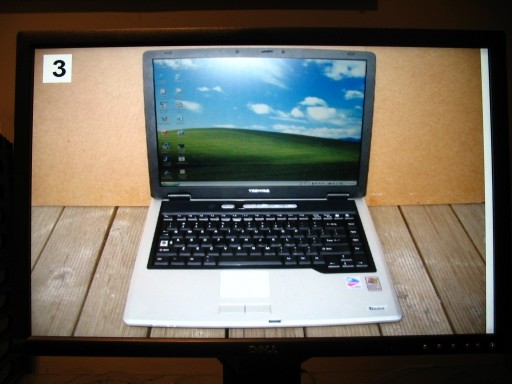 Multiple photos

It is no problem to process up to six photos of a lot, such as several views of a car or a fridge open and closed. The thumbnail catalogue will show all the photos and the slide show automatically switches back and forth between them.
Conclusions

A thumbnail web catalogue and slide show for auction day gives first class presentation of what is on offer to a very large audience. This is attractive to buyers and sellers. PhotoCat levels the playing field for smaller auction houses while saving money by reducing advertising costs and saving people displaying items on auction day.